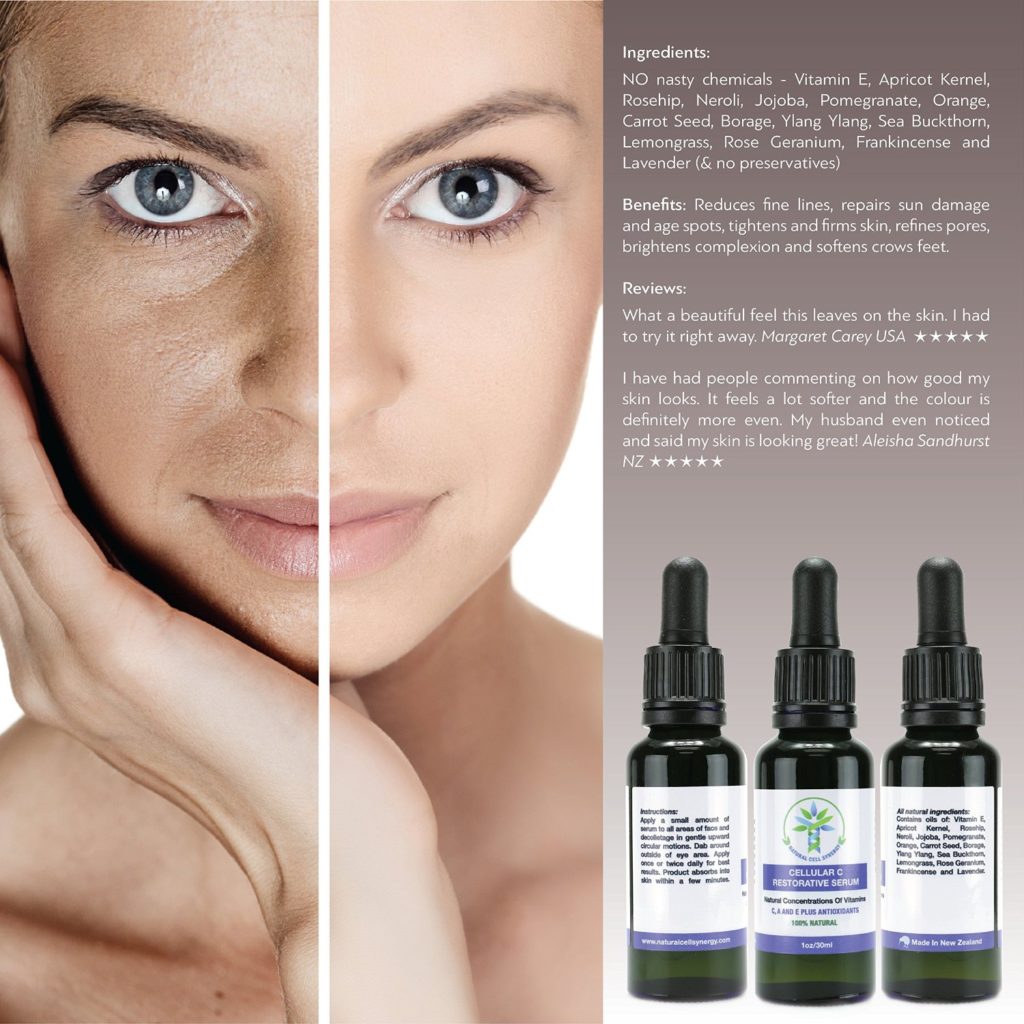 Cellular Restorative Serum 1oz. RICH IN VITAMINS C, A & E it is FAST ABSORBING (feels like a luxurious moisturiser).
LEAVES YOUR SKIN FEELING SMOOTH AND SOFT like a baby's bottom!
REPAIRS & REGENERATES COLLAGEN & renews skin cells.
Blended with ingredients known to REDUCE WRINKLES, firm skin, reduce redness, even out skin tone, reduce age spots & repair sun damage.
NO nasty chemicals – Vitamin E, Apricot Kernel, Rosehip, Neroli, Jojoba, Pomegranate, Orange, Carrot Seed, Borage, Ylang Ylang, Sea Buckthorn, Lemongrass, Rose Geranium, Frankincense and Lavender (& no preservatives)
The natural oils in this unique formulation, & known for their moisturising & cell regenerative properties. Rich in vitamins & linoleic acids, they also HELP TO REDUCE LINES WRINKLES AND DISCOLORATION while softening & firming your skin.
Other benefits: Repairs sun damage. PROMOTING CELL REGENERATION Reduces acne & scarring or red veins. Rich in Gamma Linoleic Acids GLA's & EFA's to nourish & moisturise skin Anti-Aging & repairing. Antioxidants scavenge free radicals, enhance skin elasticity, improve skin tone & balance skins PH Vitamins A, C, E & K, target wrinkles & increase elasticity.
Aromatherapy BENEFITS FOR EMOTIONAL WELLNESS. Helps reduce skin roughness, length & depth of fine lines & wrinkles.
100% CUSTOMER SATISFACTION GUARANTEE: Your satisfaction & feedback is extremely important to us! If at any time you are not completely satisfied with your purchase simply return it to us for a full & speedy refund. NON GREASY, FAST ABSORBING, FOR ALL SKIN TYPES
Hand formulated in small batches in the shadow of the Hokonui Hills in Southland, New Zealand.

New Zealand Customers: BUY FROM RENEW SKINCARE